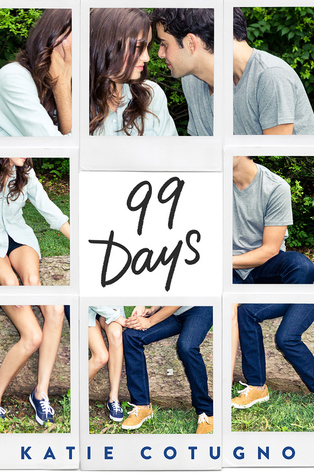 Title: 99 Days
Author: Katie Cotugno
Genre: Contemporary/ Romance/ Young Adult
Publisher: Balzer + Bray
Publication: April 21th 2015
Pages: 384
Day 1: Julia Donnelly eggs my house my first night back in Star Lake, and that's how I know everyone still remembers everything—how I destroyed my relationship with Patrick the night everything happened with his brother, Gabe. How I wrecked their whole family. Now I'm serving out my summer like a jail sentence: Just ninety-nine days till I can leave for college, and be done.
Day 4: A nasty note on my windshield makes it clear Julia isn't finished. I'm expecting a fight when someone taps me on the shoulder, but it's just Gabe, home from college and actually happy to see me. "For what it's worth, Molly Barlow," he says, "I'm really glad you're back."
Day 12: Gabe got me to come to this party, and I'm actually having fun. I think he's about to kiss me—and that's when I see Patrick. My Patrick, who's supposed to be clear across the country. My Patrick, who's never going to forgive me.
---
So it's been a while since I last read this book and it's been a while since I've writen a review, so please excuse me if you find this review maybe a little other than normal but I'm gonna do my very best. This book deserves all the love in the world and I'm sure it's my best contemporary book I've read this year.
First of, this book really interested me because of the cover, obviously, but also because of the synopsis. I knew it was gonna be a contemporary book, but the synopsis was so vague that I just had to read it. And when I read the first pages, my expectations were right because the book was really mysterious (duh). I jumped right in, I didn't know what this book actually really was about, so I didn't have a guideline and I loved that! It made me speed through the pages and I couldn't stop.
The main character is Molly and I should really hate her for what she did, because the thing I hate most is cheating. Molly is a cheater – and literally at the same time she isn't (confusing huh?). But the thing is, I don't hate her! Everyone in the story (except for Gabe ofcourse) thinks she's a monster for doing what she did, while actually I think she can be forgiven and some people are just a bitch for behaving that way and ugh! Like, I know it's mostly due to Molly herself because she didn't move on, she didn't let go, but can we blame her? It's hard to come back when literally everybody hates you so I can't blame her. I think she's brave. And I know, I can't spoil you guys (I know those last sentences were really vague) but I had a lot of feelings while reading this book. Somehow, I could really relate to Molly and I really wanted to hug her.
The next thing I have to talk about is Molly's mom. LIKE WTF, WHO ARE YOU?! I hate the bitch. Molly's mom thinks it's okay to write a book about Molly's life, but not just her life, no, she writes about Molly cheating on her boyfriend Patrick. While everyone in town knows her mom and reads her book, so everyone finds out about Molly cheating in the most cruel way possible. I really don't know how to express my thoughts and words and everything but I really hate her mom.
I liked the Donnelly brothers – Gabe and Patrick – I'm torn between them two, they both had their own charmes. They both could also be a little bit mean, but the meanest of them all was definitely Julia. Ugh, that girl really had to calm the shit down.
This book was amazing when it comes to the drama. I love every page of it. Like you guys, I literally can't describe the drama, I guess the drama was even higher than a regular drama TV show or movie. Ah, I can't stop but saying I loved it.
So.. I guess that was it? I'm glad I didn't write the review the second I finished the book, because it would only be my feels and right now I could really explain why I feel this way – at least I hope I did?! What do you think about 99 Days?