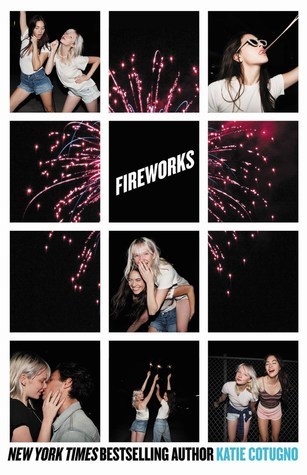 Title: Fireworks
Author: Katie Cotugno
Genre:Young Adult/ Contemporary/ Romance
Publisher: HarperCollins/ Balzer + Bray
Publication: April 17th, 2017
Pages: 336

It was always meant to be Olivia. She was the talented one, the one who had been training to be a star her whole life. Her best friend, Dana, was the level-headed one, always on the sidelines, cheering her best friend along.
But everything changes when Dana tags along with Olivia to Orlando for the weekend, where superproducer Guy Monroe is holding auditions for a new singing group, and Dana is discovered too. Dana, who's never sung more than Olivia's backup. Dana, who wasn't even looking for fame. Next thing she knows, she and Olivia are training to be pop stars, and Dana is falling for Alex, the earnest, endlessly talented boy who's destined to be the next big thing.
It should be a dream come true, but as the days of grueling practice and constant competition take their toll, things between Olivia and Dana start to shift . . . and there's only room at the top for one girl. For Olivia, it's her chance at her dream. For Dana, it's a chance to escape a future that seems to be closing in on her. And for these lifelong best friends, it's the adventure of a lifetime—if they can make it through.
---
I loved 99 Days by Katie Cotugno and so I couldn't wait to read her new book – Fireworks. Jaike and I decided to buddy read this book.
The main character in Fireworks is Dana Cartwright and she doesn't have an easy life. Her dad left her and her mother, her mother is an alcoholic and to make it even worse, they're broke. Dana does literally everything for her mother, having a job, taking care of her, making sure they don't fall apart. I have so much respect for Dana and I have to give her credit. I would have broken down if I lived like the way she did.
Olivia, on the other hand, has had a perfect life: loving parents, being talented and been training to become a superstar for her whole life. Olivia and Dana are best friends, but it's like Olivia doesn't even notice the hard work Dana has to give, and that bothered me beyond extent. As best friend, you have to support each other and I didn't get that feeling from Olivia at all. Dana was dealing with a lot of shit and still taking care of Olivia. But Olivia? Nope, she was just thinking of her self all along.
So when Olivia and Dana get chosen to join a girl band, Daisy Chain, they're both super excited they get to be in the group together. But things fall apart pretty fast, their friendship crumbles and I think that's all due to obnoxious Olivia. Suddenly, Olivia thinks Dana is obsessed with her and wants to steal her life, while actually, Dana does everything for Olivia and Olivia doesn't even notice it! When I'm writing I get so angry again – I literally don't even know how to explain it.
It's just a friendship that's far from healty, it's like an unrequited friendship. It's no surprise I was #TeamDana from the start till the end.
So, done with all the raging, let's talk about other things in this story. Dana gets to know Alex and they have a great chemistry. They hit it right off (even though we can't ignore the obstacles) and they literally have a great relationship. Alex is the perfect one for Dana, telling her all kinds of sweet things and to believe in herself. It was the cutest thing ever!
The storyline was original and it was quite refreshing that it was taking place in the nineties – even though that wasn't that obvious. The phones were with wires and all that kind of stuff – but I wished Katie had put a bit more recognizable things about the nineties in it.
Fireworks is a book with a big message about friendship but it was very cute when it came to the romantic stuff. So if you want to read a romantic contemporary but with a lot of friendship drama, Fireworks is the perfect one!