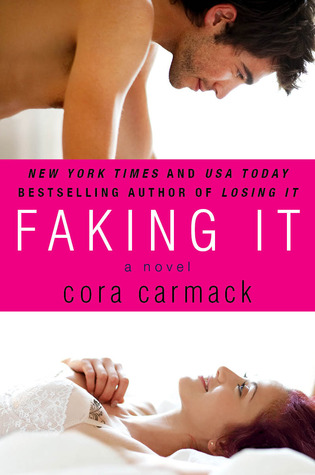 Title: Faking It
Author: Cora Carmack
Series: Losing It #2
Genre: New Adult/Contemporary /Romance
Publisher: William Morrow & Company
Publication: June 4th, 2013
Pages: 325
Mackenzie "Max" Miller has a problem. Her parents have arrived in town for a surprise visit, and if they see her dyed hair, tattoos, and piercings, they just might disown her. Even worse, they're expecting to meet a nice, wholesome boyfriend, not a guy named Mace who has a neck tattoo and plays in a band. All her lies are about to come crashing down around her, but then she meets Cade.
Cade moved to Philadelphia to act and to leave his problems behind in Texas. So far though, he's kept the problems and had very little opportunity to take the stage. When Max approaches him in a coffee shop with a crazy request to pretend to be her boyfriend, he agrees to play the part. But when Cade plays the role a little too well, they're forced to keep the ruse going. And the more they fake the relationship, the more real it begins to feel. 
---
Back in December, I got to read Losing It – it was my first New Adult and I really liked it. A few weeks ago I was craving a New Adult and I decided it was time for me to read the sequel, Faking It.
So, what is Faking It about? Max her parents are in town and they want to see her boyfriend – expect her boyfriend is not the boyfriend her parents would want to see. So she searches for a guy who would want to pretend to be her boyfriend for just the afternoon. And tada – there is Cade.
This is the main reason I really wanted to read Faking It because there's this fauxmance trope which I really love – I love reading about two characters faking a relationship and while doing that actually fall in love.
I liked reading from both Max and Cade their perspectives. I also liked both characters – both in their own way. Max is very wild and outspoken, while Cade is very sweet and cute – like a boy next door. Even tough their characters wouldn't match on paper, they actually did in the story. Their chemistry was off the charts and they surprisingly matched perfectly.
Another thing of Faking It which I liked was that it was written quite easy. It was easy to follow, and I just like Cora her writing style. It's easy and funny – simple but affective.
There actually wasn't anything I didn't like about Faking It. If you want to read to read a New Adult book about a fauxmance developing into a real romance – you should definitely check Faking It out.