It's another Story Sound Saturday!  In this post we (Melissa from Melissa's Book World and me, Wendy) are gonna recommend books through some songs that we think can really relate to that story. We both had this idea for a couple of months now and we decided to combine our ideas with this post! Music can be very emotional and especially when you can relate a song to that book. We get super excited when that happens and we want to share that happiness with you..
Every two weeks on Saturday we're gonna share our love for books and music throughout this blog post. Everytime we'll choose a book or a series that we really liked or gave us some memorable moments. We're gonna try to convey the essence of the books through music and ofcourse get you guys excited for them! Have fun!
---
---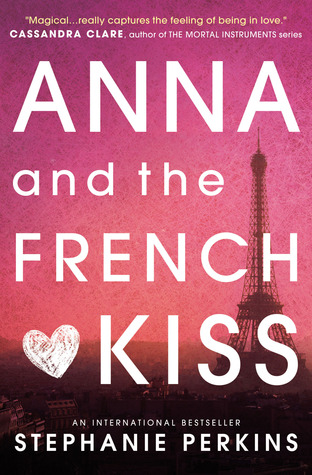 Anna has everything figured out – she was about to start senior year with her best friend, she had a great weekend job, and her huge work crush looked as if it might finally be going somewhere… Until her dad decides to send her 4383 miles away to Paris. On her own.
But despite not speaking a word of French, Anna finds herself making new friends, including Etienne, the smart, beautiful boy from the floor above. But he's taken – and Anna might be too. Will a year of romantic near-missed end with the French kiss she's been waiting for?
For this Story Sound Saturday I'm gonna go with Anna And The French Kiss. It's actually my favorite book of of the three and the romance between Anna and Étienne is different, but also outstanding. I guess this is my favorite romantic story ever! That's also why I found four songs that fit perfectly with this book. Do you want to know which ones? Continue reading!
---
You Belong With Me – Taylor Swift 
Since I've read Anna And The French Kiss I thought this song fitted perfectly with the book 🙂 (AND OMG THIS VIDEOCLIP WAS SEVEN YEARS AGO, WHERE DOES THE TIME GO?)
You're on the phone with your girlfriend, she's upset
She's going off about something that you said
Cause she doesn't get your humor like I do
I'm in the room, it's a typical Tuesday night
I'm listening to the kind of music she doesn't like
And she'll never know your story like I do
As we all know, Étienne has a girlfriend… and we all know Anna is in love with Étienne. This perfectly sums up what's happening, Étienne being there for Ellie while in the meantime, Anna actually is Étienne's perfect match.
But she wears short skirts, I wear T-shirts
She's Cheer Captain and I'm on the bleachers
Dreaming about the day when you wake up and find
That what you're looking for has been here the whole time
This represents the differences between Ellie and Anna.
If you could see that I'm the one who understands you
Been here all along, so why can't you see?
You belong with me, you belong with me
Urgh, can't you see Étienne? YOU BELONG WITH ANNA.
---
Codes – Ellie Goulding
I'm a real big fan of Ellie (wow what a coincidence.. :P) but it took me a while to figure out that this song actually fits really well with the book!
Damn, boy you make it hard
Shouldn't need a riddle to unlock your heart
So, say what's on your mind
We got other things that we could do with our
Time, we could rule the world
Know you say you never need another girl
But, you're not making sense
Trying to keep it moving while you're on the fence
Étienne makes it really hard for Anna.. He is all friendly with Anna but he still has a girlfriend.. this really represents the last two sentences.
Tell me black and white
Why I'm here tonight
I can't read the signs
Étienne needs to tell Anna whats going on.. because Anna can't read the signs. Does he love me, or does he not?
Stop talking in codes, stop talking in codes
Let me know what's up, can't do it no more
I need a love to celebrate
Stop talking in codes, stop talking in codes
Let me know what's up, can't do it no more
So baby, take it all the way
Stop talking in codes
Étienne just needs to stop talking in codes.
---
Be Right There – Diplo ft. Sleepy Tom
I didn't expect a future house song to be so accurate comparing it with a book.
I've got all this love, waiting just for you
I just gotta know that your love is true
Can't keep running boy in and out my life
Wanna be your girl, not cause the mood is right
If I let you go inside, tomorrow will you hide
Will you be there for me, when I need someone to hold
Baby don't misunderstand, I do want you for my man
I just need a little time, before I invest my love
This lyrics is so accurate! Anna got all this love and she just has to know if Étienne loves her too. She can't cope with Étienne running in and out her life so much, she just wants to be his girl… do I need to explain it further? 😉
Don't walk away, boy
(Mmm, don't walk away)
My love won't hurt you
(No-no)
Don't walk away, boy
(Don't walk away)
I'll be right there for you
Don't walk away Étienne! Anna's love won't hurt him and she will always be there for him.
---
When You're Gone – Bryan Adams ft. Melanie C
Ah I love this song so much and it really describes all the love in this book 🙂
I've been wandering around the house all night
Wondering what the hell to do
Yeah, I'm trying to concentrate but
All I can think of is you

Well, the phone don't ring cause my friends ain't home
I'm tired of being all alone
Got the TV on cause the radio's playing
Songs that remind me of you
This just decribes the love Étienne feels for Anna… and in the end of course the love Étienne has for Anna!
Baby, when you're gone
I realize I'm in love
Days go on and on
And the nights just seem so long
Even food don't taste that good
Drink ain't doing what it should
Things just feel so wrong
Baby, when you're gone
Let me sum it up: They just can't be apart from eachother 🙂
Oh, this is torture, this is pain
It feels like I'm gonna go insane
I hope you're coming back real soon
Cause I don't know what to do
---
Lovers, Friends – Möwe ft. Daniel Litt
I heard this song on the radio the day I'm writing this and it immediately made me think of Anna and Étienne!
Stop, I know you can see the signs
I'm not afraid to cross the line
And turn this friendship into more than amazing
Stop, we don't have to change at all
Old school lika a carnival
Still my bestie but you're more, you're my baby
This doesn't need explaining, right?
Cause love is whatever we want it
However we need it to be
So I say yeah, yeah, yeah
Every single day you'll be my homie
And I say yeah, yeah, yeah
Every single night I'ma hold you tight
We'll be like lovers, lovers, friends, friends
To the very, very end
Ooh, ooh
We'll be like lovers, lovers, friends, friends
To the very, very end
Ooh, ooh
---
Melissa's reaction:
Okay, so I've read (and re-read a several times) Anna & the French Kiss, so when Wendy announced she was going to use this book in this week's SSS post I was super excited!
This book is AMAZING ❤ And it's a perfect book to be using in this post, to let you people feel the book through music.
Wendy succeeded again, because every song is an impact to my FEELS ❤
It takes me back into the book and makes me Feel everything I've felt during the reads and I love itttt.
Just like the book, the songs are intens, emotional and just amazing! So if you haven't read the book yet, please let these songs persuade you to do so. Listening to these songs, there's no doubt in my mind there's anyone who doesn't want to read it..
All I can say is, enjoy!!
---
I know it's been a while since we did this post, unfortunately Melissa and I both had a blogging slump. But now we're back again and I loved doing it. I can't wait till the next post! I'm still debating if I should go with The Selection or The Unexpected Everything, so let me know in the comments!