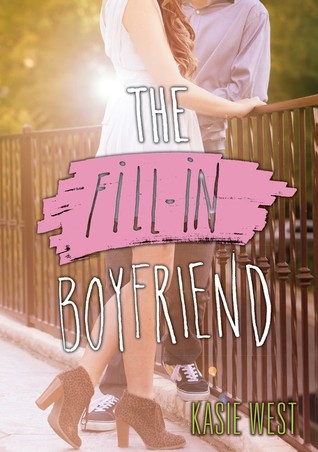 Title: The Fill-In Boyfriend
Author: Kasie West
Genre: Contemporary/ Young Adult/ Romance
Publisher: HarperTeen
Publication: May 5th 2016
Pages: 343
When Gia Montgomery's boyfriend, Bradley, dumps her in the parking lot of her high school prom, she has to think fast. After all, she'd been telling her friends about him for months now. This was supposed to be the night she proved he existed. So when she sees a cute guy waiting to pick up his sister, she enlists his help. The task is simple: be her fill-in boyfriend—two hours, zero commitment, a few white lies. After that, she can win back the real Bradley.
The problem is that days after prom, it's not the real Bradley she's thinking about, but the stand-in. The one whose name she doesn't even know. But tracking him down doesn't mean they're done faking a relationship. Gia owes him a favor and his sister intends to see that he collects: his ex-girlfriend's graduation party—three hours, zero commitment, a few white lies.
Just when Gia begins to wonder if she could turn her fake boyfriend into a real one, Bradley comes waltzing back into her life, exposing her lie, and threatening to destroy her friendships and her new-found relationship.
---
I buddy read this book with Fleurine and I really liked it!
First of, I really liked the concept. I think it's original and very funny. Gia's friends actually didn't believe Gia that she had a boyfriend, so she had to bring Bradley with her to prom. There's only one but.. Bradley breaks up with her in the parking lot. Gia knows that if she comes alone everyone will say she lies and made it all up, so she decides to find a 'fill-in Bradley' and who else is better than the first guy you see in the parking lot? Exactly. This concept is just really funny and I loved reading about it.
I loved Gia. She was a popular girl, but not the mean kind and I think that's a good thing, everything hasn't always have to go according to stereotypes. I loved that she secretly has a crush on Fill-in Bradley (I'm not gonna tell his name because it's a big mystery in the book) and I even loved her more at the ending. Gia really grows in this story and it's beautiful to see this.
I also loved Fill-in Bradley! He was so charming and loyal, he was absolutely goals. Everybody needs a Fill-in Bradley in their life.
But there aren't only things to love about this book, there are also some things I hate. Or let's say, characters I hate. Jules is literally the most childish teenage girl I've ever met. Like literally. It's like her biggest dream is to destroy Gia's life, and when she does, what's the benefit? Exactly. Ugh, I can't explain. Jules was so annoying and it was making me very mad that Jules never believed Gia and never stopped questioning Gia and it was kind of upsetting.
And I really don't know what else I have to say about this book. It was a perfect contemporary read with a cute romantic story in it and it definitely deserves all my five stars.