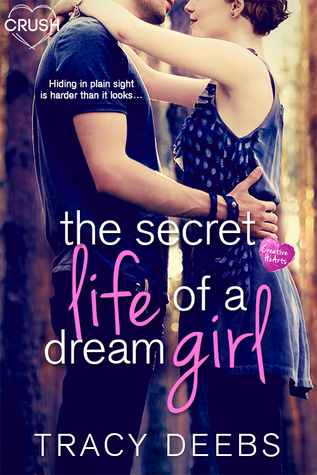 Title: The Secret Life Of A Dream Girl
Author: Tracy Deebs
Series: CreAtive Hearts #4 Dahlia and Keegan #1
Genre: Young Adult/Contemporary/Romance
Publisher: Entangled Publishing
Publication: June 27th 2016
Pages: 214
I received an eARC from the publisher through Netgalley in an exchange for an honest review. All opinions are my own.
Hiding in plain sight is harder than it looks…
Dahlia Greene—aka international pop superstar Cherry—is undercover as a normal high school student. She just wants to experience what real life is like, so when she overhears hottie Keegan Matthews nervously talking about liking a girl, she sees the perfect opportunity to live a real life and play a little matchmaker. What was not part of the plan was falling for a guy she can never tell the truth.
Keegan Matthews has been secretly crushing on Dahlia ever since she started at his school. Sure, Dahlia thinks he's crushing on some other girl—not realizing his Dream Girl is actually her—but he figures, play along with her tips to woo someone else, let her get to know him, and then make his move. But with so many secrets in the mix, their romance is doomed from the start…
---
Yes! Here I am again with a review about the CreAtive Hearts series! I LOVE THIS SERIES GUYS. It can't seem to disappoint me. I was also so happy when I found out I got the eARC to review it. I loved this book and I will tell you why!
So the book has two main characters, Dahlia and Keegan. This book got the same formula as the other books in this series, namely, the parts about the girl (Dahlia in this case) are written in first person and those about the boy (Keegan) in third person. I really like this formula. This way you are shown the thoughts of both characters, but in a different way, which I think is very refreshing. I also liked that we got a lot more chapters from Keegan's POV!
But what did I think about them? I loved them both. Dahlia was a girl who is not afraid to be bold, but in a very sneaky/secretive way. She's actually undercover and is really shy at school, but when she is with Keegan she's just herself and is actually pretty confident! That's when I like her best. Same goes for Keegan, he is the popular boy in school and he knows how to talk to girls, but when he is with Dahlia he is so cute and goofy! He doesn't know how to talk or act around her and I think that's just adorable.
So this whole story really reminded me of Hannah Montana, and I actually LOVED that! Except for Hannah Montana, there aren't a lot of books with this concept and I really liked that. The story was well developed and it moved gradually. It didn't go slow and at the same time it wasn't rushed. The events were equally divided.
The other thing that was also great about this book (and a bit frustrating to be honest) was that Keegan didn't know who Dahlia actually was, while Dahlia didn't know she was Dream Girl all along. I JUST WANTED THEM TO BE TOGETHER! But when the moment was finally there I sobbed and swooned. It was perfect.
I'm just super happy I got to read this books thanks to Entangled Publishing and I can't wait until the next books come out!