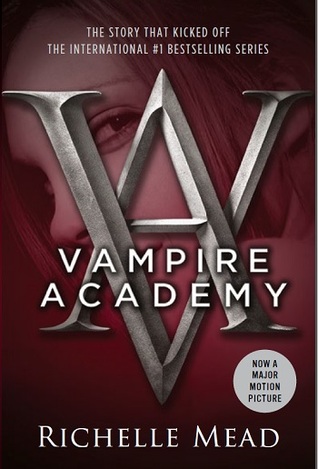 Title: Vampire Academy
Author: Richelle Mead
Series: Vampire Academy #1
Genre: Young Adult/Fantasy/Paranormal
Publication: August 16th 2007
Publisher: Razorbill
Pages: 332
Only a true best friend can protect you from your immortal enemies . . .
Lissa Dragomir is a Moroi princess: a mortal vampire with a rare gift for harnessing the earth's magic. She must be protected at all times from Strigoi; the fiercest vampires – the ones who never die. The powerful blend of human and vampire blood that flows through Rose Hathaway, Lissa's best friend, makes her a dhampir. Rose is dedicated to a dangerous life of protecting Lissa from the Strigoi, who are hell-bent on making Lissa one of them.
After two years of freedom, Rose and Lissa are caught and dragged back to St. Vladimir's Academy, a school for vampire royalty and their guardians-to-be, hidden in the deep forests of Montana. But inside the iron gates, life is even more fraught with danger.. and the Strigoi are always close by.
Rose and Lissa must navigate their dangerous world, confront the temptations of forbidden love, and never once let their guard down, lest the evil undead make Lissa one of them forever..
---
So I've got this book since december last year and I've been wanting to read it for a while now. I've seen the movie a while ago now, I guess it was last year. At first I thought it was a great movie, but I was kind of upset with myself for seeing the movie first, instead of reading the book first. But in the end, it didn't bother me at all. I forgot most of the details from the movie and I still got to enjoy the book.  Thanks to my bookblogger friends (In particuliar you, Melissa!) I finally decided to enter the VA fandom, because guys. I LOVED IT.
First of all, the story was quite original. I mean, the only thing I've read that's about vampires is The Mortal Instruments (well kind of, but nope, I haven't read Twilight yet! Shame on me) so I got a fresh start. And I loved the vampire concept! The vampires were put into another daylight (ironically) by giving them other rules and another way of life. Like I said, I haven't read much vampire stories but I liked the way that this wasn't about the old vampire-human biting thing. This really is about the Moroi and their guardians, and the battle between them and the Strigoi.
Oh my god, and Rose! Can she be my best friend? I liked every bit of her. She was cool and reckless, a total badass. The total opposite of me, maybe that's the reason why I liked her so much. It was refreshing to finally read from the mind of a dangerous character, because I must admit, when you read a lot of contemporary the characters can be kinda boring.
And ofcourse I can't forget Dimitri.. in the movie I thought he was cool, like, OK, cool dude, but in the book. Damn guys, my feelings exploded. He's so loving and loyal. He really is a God. AND CAN WE TALK ABOUT THE FACT THAT IS HE 24?! 24 YOU GUYS. DO I NEED TO SAY MORE?!
Not only the characters were great, I also loved the writing style of Richelle. The book is written from first POV, which is actually my favorite. It was easy to follow, especially because of all the information you get. Everything became clear, slowly, and that's just the way I like a book to go.
I really don't know what's left to say about this book. It's been two days since I read this book, but it still left me struggeling with the words to write this review. If you've already read this book, you're the best, but if you haven't; WHAT ARE YOU WAITING FOR? SPRINT TO THE NEAREST BOOKSTORE OR VISIT YOUR FAVORITE ONLINE BOOKSTORE. BUY IT NOOOOOOW!