This month flew by and I can't believe it's almost June. I remember when I told everyone in my May TBR and Month Of Matson post that I'm the best in deviant behaviour but that this month I was sure I stayed close to my plan.. well I shouldn't have said that because it happened again. I guess I just have to stop making plans and just go with the flow. But back to this post; this will be a new feature on my blog. Once a month I will recap the month a show you what books I've read and what books I will most likely read the next month. Hopefully, this time I will stay true to my planning.
So the first book I've read in May is The Unexpected Everything by Morgan Matson. It is my most anticipated read of 2016 and when it arrived at my door I instantly began to read. I absolutely LOVED this book and if you want to read my review, click here.
The next book I read was The Crown by Kiera Cass and I was kinda disappointed by this book. It's probably because I had too high expectations and the book just kind of let me down. If you want to read my review, click here.
Another book I've read this month was A Thousand Pieces Of You by Claudia Gray and guys, I'm not joking.. this IS the best book I've read in 2016. I know, we're only half way through the year but I'm pretty sure of it. If you want to read my review, click here.
The last book I've read in May 2016 was Pieces Of You And Me by Erin Fletcher. I received an eARC from the publisher through Netgalley. I liked the story, but it just lacked a lot of meanings and I guess the book was just too flat. My review will go up Friday June 3th.
So that were the books I've read in May.. but what about the books for June? I decided to don't set the bars too high this time, last time I expected myself to read 6 books in one month and I found out this is just too much for me right now. So my new goal is: read one book in a week, that's achievable right? So for June I'm gonna read four books and I have some books in my mind, but I'm not so sure if at the end of June this will be the same books, but you will see then!
So for June, this are the books I will be reading (for now)
The Problem With Forever by Jennifer L. Armentrout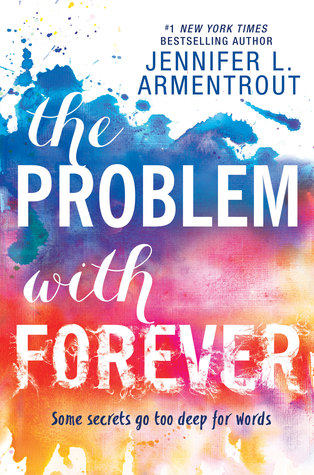 For some people, silence is a weapon. For Mallory "Mouse" Dodge, it's a shield. Growing up, she learned that the best way to survive was to say nothing. And even though it's been four years since her nightmare ended, she's beginning to worry that the fear that holds her back will last a lifetime.
Now, after years of homeschooling with loving adoptive parents, Mallory must face a new milestone—spending her senior year at public high school. But of all the terrifying and exhilarating scenarios she's imagined, there's one she never dreamed of—that she'd run into Rider Stark, the friend and protector she hasn't seen since childhood, on her very first day.
It doesn't take long for Mallory to realize that the connection she shared with Rider never really faded. Yet the deeper their bond grows, the more it becomes apparent that she's not the only one grappling with the lingering scars from the past. And as she watches Rider's life spiral out of control, Mallory faces a choice between staying silent and speaking out—for the people she loves, the life she wants, and the truths that need to be heard.
---
Vampire Academy by Richelle Mead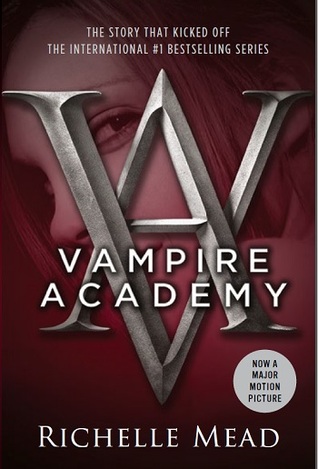 Lissa Dragomir is a Moroi princess: a mortal vampire with a rare gift for harnessing the earth's magic. She must be protected at all times from Strigoi; the fiercest vampires – the ones who never die. The powerful blend of human and vampire blood that flows through Rose Hathaway, Lissa's best friend, makes her a dhampir. Rose is dedicated to a dangerous life of protecting Lissa from the Strigoi, who are hell-bent on making Lissa one of them.
After two years of freedom, Rose and Lissa are caught and dragged back to St. Vladimir's Academy, a school for vampire royalty and their guardians-to-be, hidden in the deep forests of Montana. But inside the iron gates, life is even more fraught with danger . . . and the Strigoi are always close by.
Rose and Lissa must navigate their dangerous world, confront the temptations of forbidden love, and never once let their guard down, lest the evil undead make Lissa one of them forever . . .
---
When We Collided by Emery Lord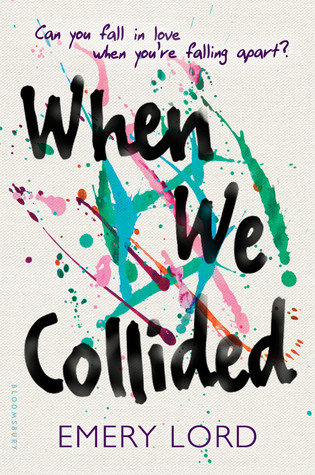 We are seventeen and shattered and still dancing. We have messy, throbbing hearts, and we are stronger than anyone could ever know…
Jonah never thought a girl like Vivi would come along.
Vivi didn't know Jonah would light up her world.
Neither of them expected a summer like this…a summer that would rewrite their futures.
In an unflinching story about new love, old wounds, and forces beyond our control, two teens find that when you collide with the right person at just the right time, it will change you forever.
---
Earth & Sky by Megan Crewe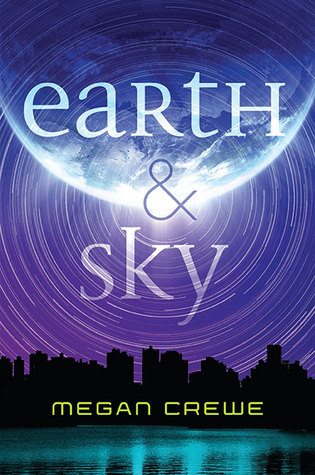 Seventeen-year-old Skylar has been haunted for as long as she can remember by fleeting yet powerful sensations that something is horribly wrong. But despite the panic attacks tormenting her, nothing ever happens, and Sky's beginning to think she's crazy. Then she meets a mysterious, otherworldly boy named Win and discovers the shocking truth her premonitions have tapped into: our world no longer belongs to us. For thousands of years, Earth has been at the mercy of alien scientists who care nothing for its inhabitants and are using us as the unwitting subjects of their time-manipulating experiments. Win belongs to a rebel faction seeking to put a stop to it, and he needs Skylar's help–but with each shift in the past, the very fabric of reality is unraveling, and soon there may be no Earth left to save.
---
So that is it for this month! What is your TBR this month?