Title: A Thousand Pieces Of You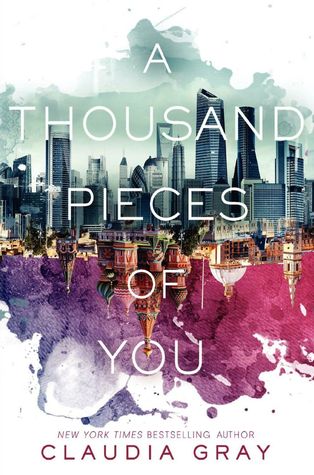 Author: Claudia Gray
Series: Firebird #1
Genre: Young Adult/Science Fiction/Adventure
Publisher: HarperTeen
Publication: November 4th 2014
Pages: 360
Marguerite Caine's physicist parents are known for their groundbreaking achievements. Their most astonishing invention, called the Firebird, allows users to jump into multiple universes—and promises to revolutionize science forever. But then Marguerite's father is murdered, and the killer—her parent's handsome, enigmatic assistant Paul— escapes into another dimension before the law can touch him.
Marguerite refuses to let the man who destroyed her family go free. So she races after Paul through different universes, always leaping into another version of herself. But she also meets alternate versions of the people she knows—including Paul, whose life entangles with hers in increasingly familiar ways. Before long she begins to question Paul's guilt—as well as her own heart. And soon she discovers the truth behind her father's death is far more sinister than she expected.
You know guys, I was kinda stupid. When I was reading this book I didn't make any notes because well.. this book was just so awesome that I couldn't take notes otherwise I would miss the whole thing! And when I finished it I had so much ideas to write in this review but they're gone now.. I'm gonna try to write a review like always and I hope the ideas come back. Also, sorry if this review is nothing but fangirling. I just can't help it, this book is AMAZING.
First of all, give me some time to rave about this world and this storyline. BECAUSE IT WAS FREAKING AWESOME YOU GUYS. It was so original and so well-thought, that the fangirl inside me immediately took control. I mean.. TRAVELLING BETWEEN DIMENSIONS?! HOW ASDFGHJKL AWESOME IS THAT! Okay, before you think: WHAT IS SHE TALKING ABOUT? Let me explain it to you shortly: so the main character, Marguerite, has two parents who are geniuses. They invented the Firebird; which is a device that you can use to travel between dimensions. This means: if you've got the Firebird and you use it in the right way, you can travel to a different version of yourself in a different dimension. The moment you take over your-other-dimension-self, she is put asleep and you are in charge. I mean, that is cool right! And so original. It was so fun to finally read about a story that isn't slightly comparable to other books and I can't stop fangirling about it. I mean it guys. Also, maybe it was a little hard to understand in the beginning, but that didn't bother me at all. Claudia took the time to let you understand the world Marguerite lives in and that was something great about this book.
AND MARGUERITE. SHE WAS SO COOL! First, I loved her style. She was so fashionable and I could really relate to her. Marguerite was so sweet and cute and I LOVE HER CAN SHE BE MY BEST FRIEND?
ALSO OMG OMG OMG THEO. GUUUUUUUUUUUYS THIS IS UNREAL. Never have I ever fangirled so much about a fictional boy. AND I MEAN IT. REALLY, REALLY MEAN IT. I love him so much. He is so sweet and charming and his ego is very cute in some way. I DON'T NEED TO TALK OR THINK ABOUT PAUL. THEO IS MY BAE.
And damn guys, that plottwist. That was fierce as hell. And so tensive. It came out of nowhere and I seriously didn't expect that anything like this could happen.
Claudia Gray, you amazed me and I thank you for this book. This is definitely my new favorite series and I can't wait till Ten Thousand Skies Above You arrives in the mail. Can I cope? No guys. I can't cope. BEST BOOK EVER OMG I SWEAR TO GOD GUYS GO READ IT NOW.